Welcome to Our Town Collectibles!
Capturing the Uniqueness of Our Town for You
"Our Town Collectibles," a division of Reinbrook Studios is dedicated to capturing the uniqueness of favorite towns and cities through art. Our artistic renderings create a keepsake or momento of special times and souvenirs of special places.
We offer a two types of collectibles. The first is a collection of free standing buildings that feature a fine art rendering in ink and watercolor. The artwork is reproduced and mounted on a high quality wood product approximately .75" thick. It is then carefully and skillfully cut out to show the details of each piece.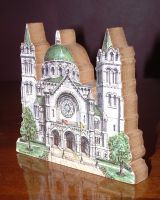 The buildings and accessories, free-standing and grouped together, create a beautiful and unique representation of each town. They make a wonderful display on shelves, end tables, desks, or doorframes. To further enhance the collection, accessories such as trees, benches, and street lights are available. Click on the picture below to see an enlarged example. See if you can recognize any of the buildings!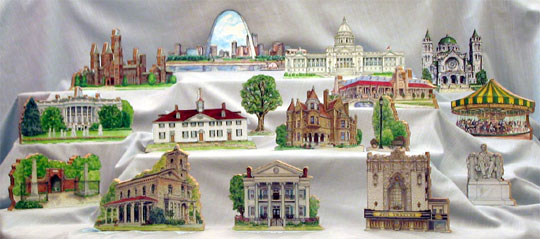 The second type of collectible we call "Art Cards." Art Cards contain the same high quality artwork of the collectible buildings with a few extra touches. They are frameable works of fine art that can also be sent as a greeting card.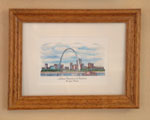 The cards are blank on the inside and come with an envelope. The card also serves as a mat which fits into a standard 5" x 7" frame. Both the print and the card are archival quality.
Thank you for visiting "Our Town". To take a tour click on the places at the left, top or bottom of your screen.
Come see us again our town is always growing! If you would like us to do your town Contact Us!. We want to hear from you!