Welcome to Our Town Collectibles!
Thanks for visiting us! We're very glad you're here!
As we guide you through Our Town you'll see many wonderous (and hopefully familiar) landmarks from locations around the United States. Hopefully you'll learn a few new things as well.
All of these landmarks you can take home with you. We provide you with collectible keepsakes of memorable landmarks in the forms of wooden cut out buildings and frameable Art Cards. You can see an example of the buildngs below (click to see it larger).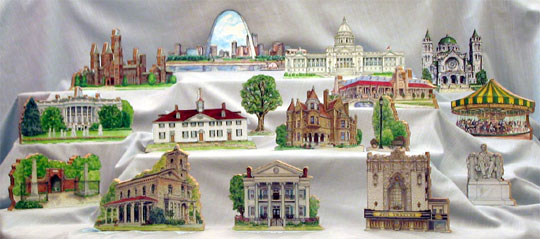 The first stop on the tour is our nations capital Washington DC. We're sure you'll recognize a few things there.
Last, but not least, we'll stop by to see St. Louis home of the arch, the St. Louis Cardinals, and the 1904 World's Fair.
Just Added - We have just updated with a new section on St. Louis Area Colleges! Click Here to see!
Not sure what these collectibles are? Click here for a more detailed explanation.